Sunday 3rd Dec, 2023
Saturday 2nd December, 2023
ADVANCED Foot & Ankle Centre
Our experienced and friendly podiatrists and surgeons are extensively trained providing a unique service for the ACT and surrounding districts. 

Jane trained as a podiatrist at The University of Salford (UK), graduating in 1999. Her career started working for the National Health Service. Here she was fortunate enough to work along side some of the best podiatrists in the UK. In 2003 she brought her skills and knowledge to Canberra, joining Clayton Clews at ACT Podiatry….and has lived here ever since.
Jane loves the challenges of private practice, and the relationships she has built with her patients, many of whom she has been working with for over 15 years. With nearly 20 years experience across all aspects of podiatry you know you are in expert hands! Jane gets great satisfaction from her work, and is very thorough and conscientious in her approach to patient care. She completed a Masters in Health Science (Podiatry) in 2009, and regularly attends courses to keep up to date on the latest research. 
Jane is a keen sports person, and passionately supports the notion that mobility enhances quality of life. Whatever your fitness goals, are she will try her best to ensure your feet don't let you down. 
She lives in Canberra with her husband and three children, and in her spare time enjoys rowing with Black Mountain Rowing Club.
Dr Clayton Clews (Podiatric foot and ankle surgeon)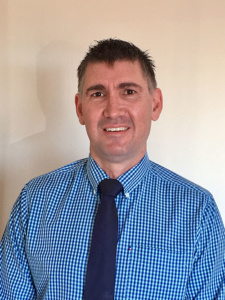 Dr Clayton Clews is the director of ACT Podiatry. He is a Commonwealth accredited podiatric foot and ankle surgeon specialing in the management (both surgical and nonsurgical) of foot and ankle conditions. He completed his undergraduate studies at Curtin University, Western Australia in 1989, his Research Masters in Sports Physiology at Canberra University in 2000, and his Masters in Podiatry at Curtin University in 2003. He has worked in private practice in Canberra since 1990, with a focus on foot and lower extremity biomechanics and orthotic therapy.
His podiatric surgical fellowship was obtained through the Australasian College of Podiatric Surgeons (ACPS). This training involved the logging of thousands of observed, assisted and performed surgical cases and rotations through medical specialties important to the field of podiatric medicine (ie- anaesthetics, orthopaedic surgery, plastic surgery, vascular surgery, medical imaging etc). He has also spent hundreds of hours attending clinics with foot and ankle specialists and has published research in the field of podiatric surgery. His training has exposed him to almost all conditions of the foot and ankle and how to manage complications should they arise. He is a podiatric prescriber, using medications strategically, when needed to augment other forms of treatment.
Clayton has trained extensively within Australia and overseas. He completed a 4-month rotation in Hereford, UK in 2004, where he obtained experience in the National Health Service (NHS) and obtained experience in common conditions of the foot and ankle. A further rotation was undertaken in the UK where he completed a 3-month rotation at the Great Western Hospital, Swindon, working in a large public hospital and obtaining a great deal of experience in the management of the diabetic patient and their foot related complications. He completed a further 3-month rotation training at Dekalb Hospital, Atlanta, Georgia, to complete his international rotations, obtaining further exposure amongst other things to the surgical management of fractures. His US rotation exposed him to the Podiatry Institute, a world leading facility in the training and promotion of podiatric foot and ankle surgery. The Podiatry Institute is a prolific publisher of articles associated with conditions of the foot and ankle, acting as an important source of up-to-date and reliable information.
Clayton's initial interest in podiatry was inspired by his background as an elite runner and sportsman. He sees the importance in movement and activity in having a healthy and productive life and has been inspired to keep people active and pain free. His interest in surgery developed as he could see the limitations in non-surgical care for certain patients and he wanted to become a more complete practitioner. He could see the importance of possessing both surgical and non-surgical skills. He sees great value in a surgical speciality dedicated to the foot and ankle, and adding great strength to the podiatry profession.
Dr Damien Lafferty (Podiatric foot and ankle surgeon)
Dr Damien Lafferty is a Commonwealth accredited podiatric foot and ankle surgeon, Fellow of the Australasian College of Podiatric Surgeons (ACPS) and International Affiliate of the American College of Foot and Ankle Surgeons (ACFAS).
He graduated from Curtin University, Western Australia in 1988 with a Bachelors of Science Degree. He followed this with a post-graduate diploma in Advanced Podiatry in 1992 and a Masters of Science which was completed in 1997, all from Curtin University. He commenced his surgical training with the Australian College of Podiatric Surgeons (ACPS) and attained his fellowship in 1997.
Dr Lafferty has more than twenty years of experience in podiatric medicine, nine of which were in Perth, with a further nine years in London. He has been practising in Sydney since 2006. During his time in England he worked both privately and publicly. He consulted at Guys and St Thomas's Hospital in London and as the podiatrist to the UK Athletics, the English Institute of Sport and the British Olympic team in the London and South East region. All of his surgery is carried out in accredited hospitals.
Aaron joined ACT Podiatry in early 2018, and has be warmly welcomed by our patients. Originally from Melbourne, Aaron has moved from Horsham, Victoria and is looking forward to making Canberra is home.
He has completed post graduate training in foot mobilizations/manipulations, massage and dry needling. Aaron is a highly motivated practitioner and is very focused on providing the best possible care to his patients. He believes being kept up to date with the most effective ways to treat his patients is an integral part of this process.
Aaron is particularly interested in paediatric podiatry and responding to the unique and ever-changing demands of the growing foot. He has had additional mentoring and further education in podiatric treatments for children and is a member of a specialised group 'Children's Podiatry'. This is a professional study group looking at the best up to date practices for treating children.
Previous experience in aged care facilities has given Aaron a greater appreciation of geriatric care and the specific issues that affect mobility in the elderly.
Outside podiatry, Aaron loves running. He is currently working on his 5km, aiming to achieve a personal best time of 20 minutes. He completed his first half marathon in 2016.
Aaron has enjoyed adjusting to Canberra life and looks forward to helping the people of Canberra to try and keep up with him!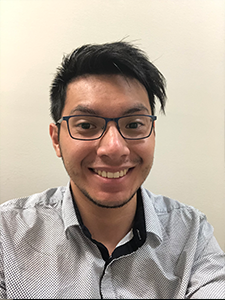 Shaun is the newest member of our team, having graduated as a podiatrist from the University of Newcastle in early 2021. Shaun completed several of his practical University placements at ACT Podiatry, and as such is already known among, and well-liked by many of our regular patients. During these placements he spent time alongside our most experienced practitioners, honing his clinical skills and putting his knowledge into practice. Shaun has impressed us with the toughness of his clinical assessments andhas demonstrated exceptional general medical and pharmacological knowledge. These skills lay the foundations to any treatment plan, especially when managing elderly patients or those with complex medical histories taking multiple medications.
Shaun is originally from Goulburn,but is happy to call Canberra home (and were sure that'sbecause he loves working at ACT Podiatry, and nothing to do with our proximity to the snow!) When he is not working, Shaun loves to keep active, skiing, karaoke, and is a keen pianist.
Shaun is taking bookings across all areas of practice, including diabetic assessments, skin and nail conditions, musculoskeletal pain and paediatrics.